Syntegon has introduced two new innovations for small-scale OSD production in 2022. The new APD tool identifies optimal process parameters for capsule fillers and tablet presses, while the GKF 60 capsule filling machine sets new standards in lab-scale capsule filling for laboratories.
APD tool: new development for lab automation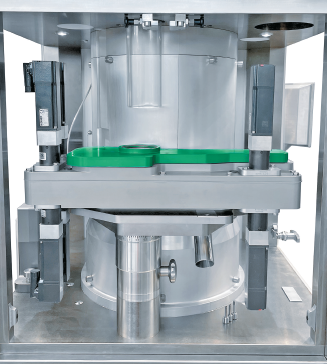 With its new Automated process Development (APD) tool, Syntegon supports pharmaceutical producers in identifying the optimal process parameters for their capsule filling and tablet pressing machines. "With tablets, numerous properties play an important role – from shape or diameter to thickness and hardness," Matthias Moessinger, Senior Market Expert Pharma Solid at Syntegon, explains. "In the first step, we focused on powder feeding and the various feeder designs." The new powder feeding system is specifically tailored to the TPR 200 tablet press from Syntegon. The system can be adjusted automatically to fit every possible stirrer configuration.
During product tests, the APD software evaluates and optimizes the process parameters regarding their influence on critical quality attributes. As a major highlight, both the changeover of the feeding system and the tests are fully automated; human intervention is no longer necessary. The APD tool is based on Design of Experiments (DoE) and analyzes the functional relations between material properties, process parameters, and critical quality characteristics of the final product. This enables pharmaceutical manufacturers to accurately simulate the production situation and determine reliable parameters thanks to a clearly defined data basis. This saves time, reduces product loss, increases product quality, and facilitates process validation. The new APD tool is also available for the next innovation from Syntegon – the GKF 60 capsule filling machine, which made its European debut at CPhI in Frankfurt.
GKF 60: new standards in capsule filling for laboratories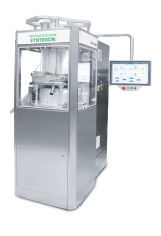 "Researching pharmacists and laboratories need to bring their new drugs to regulatory approval quickly and in a targeted manner. They need a mobile machine that enables the development of new formulations with a wide variety of dosing systems ‒ flexibly and at different OEB levels," says Moessinger. "Moreover, the systems should also be easy to scale-up to production." The new GKF 60 impresses with high flexibility and low space requirements. With only six stations, the machine is extremely compact and requires significantly fewer format parts. Nevertheless, a total of three filling stations can be integrated in parallel.
Customers can choose from numerous options ‒ from the newly developed piezo dosing to the familiar dosing modules for dry powder inhalation (DPI), pellets, tablets, or liquids, to the mini-bowl station for a scale-up to the next larger production machine. Each dosing station can be optionally equipped with a gravimetric 100 percent weighing system, as well as further options such as cameras and sensors. The GKF 60 is available in three versions: the standard version, the containment variant, or a combi solution. "Thanks to exchangeable cabin elements and a sophisticated cleaning concept up to WIP (washing in place), the combi solution can be adapted for both simple and highly potent formulations up to OEB5 high-containment in just a few steps," Moessinger explains. Thanks to an identically constructed basic machine, the standard version can be retrofitted very easily. Since the GKF 60 is also compatible with the GKF 720, Syntegon's smallest production-scale capsule filling machine, there is nothing to stop the scale-up of newly developed formulations.