In the recent years we entered the era of sustainable packaging. New procedures and technologies help our market to raise its standards and as packaging machinery designer and builder we implemented new instruments to face new challenges. The need for flexibility, traceability, sustainability and attention for consumers gave us the opportunity to improve our offer.
Simple and hygienic
Universal Pack machines are built to guarantee the highest hygienic level in the simplest manner. The R&D department has designed and developed automatic CIP systems for cleaning the inner parts of dosing systems. As a matter of fact, these systems ensure the full equipment cleaning without the need for disassembling. These solutions are aimed to reduce machine downtime by providing ready-to-work spare units. All cleaning systems are designed and built abiding by EHEDG guidelines and 3-A sanitary standard.
The next hygienic level available implies Ultraclean technology, equipped with laminar flow to prevent contamination of the product area by isolating the dosing and forming groups from the external environment. The hygienic proposal is also extended to the packaging: decontamination and sterilization lamps ensure the highest hygienic level of the laminated film.
Traceability and certifications
We uniquely code every single component, keep full track of it and provide documentation certifying its compliance with Pharmaceutical and Food industry regulations. An essential list includes for instance: certificates of all materials and parts in contact with the product, welding certificates, calibration certificates and parts full traceability. The provision goes beyond the latter certificates for proving the components quality and compliance, as it stretches to further documents concerning the line construction and effectiveness. The list goes on with IQ (Installation qualification), OQ (Operational qualification), PQ (Performance qualification), FDS (Functional design specifics), HDS (Hardware design specifics) and Risk analysis, FAT and SAT ad hoc protocols.
For the planet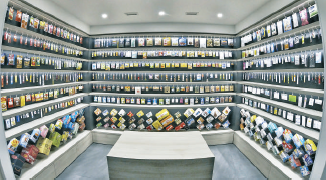 Our non-stop research in reducing the packaging industry carbon footprint resulted in streamlined machinery design for packing recycled, recyclable and compostable laminates. LCA (life cycle assessment) is used to measure the environmental impact of our products and identify optimal ways to reduce it. It is a 360° analysis that goes beyond the mere packaging produced and involves every step of the packaging machinery production process. We develop our solutions shoulder-to-shoulder with the main global film suppliers and test them in agreement with major multinational companies in order to provide them with a turnkey solution able to produce eco-packages.
Universal lab
Over 30 years of scientific research. Our in-house laboratory was built to always ensure the most sustainable and efficient packaging solution. The research in Universal Lab allows us to optimize machine design, efficiency and reliability by studying the most significant properties of products and newly developed laminates. That's why we are ready to pack any product using the latest eco-laminates in the market and always looking out for the development of new materials.