PHARMACELL LLC continues to manufacture medicines in PE packaging under Nikopharm brand name during the war. We do our best to support Ukrainian economy, ensure employment of our personnel and at the same time to invest in the construction of the new production facilities. Shortly after russia started invasion of Ukraine, the company supplied medicines worth over UAH 5 M free of charge to medical institutions including military hospitals in Kyiv and Kyiv region.
PHARMACELL LLC has ambitious plans to complete the construction of its new production site and start manufacturing of high-quality Ukrainian medicines in 2023. What are the source and the main basis of our confidence in achieving the goal?
That means time-proven experience and endurance, determination, and persistence of our CEOs and core employees. Gained experience in withstanding trials and staying decisive during absolute uncertainty and resource deficit.
The company started its activities in 1995 in Makiivka, Donetsk region. The company was one of the first to get GMP certificate in Ukraine. We were the pioneers in implementation of BFS (Blow-Fill-Seal) technology. In 2014, the company had to start its activities from the very beginning and settle down in Kyiv. Back then, 95% of the company's assets were lost, including its production facilities. Until now, medicines are produced under contract manufacturing in Germany (Holopack Verpackungstechnik GMBH) and Greece (DEMO S.A. Pharmaceutical Industry and Vioser S.A. Parenteral Solutions Industry). The company has set its primary goal – to restore its production of injection medicines in Ukraine and proceeded to the construction of the new factory at the end of 2019.
Luckily, the site of construction was not caught in the battlefield, however, war made its own adjustments to the construction schedule.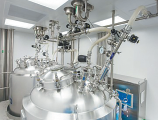 So far, we are staying behind the working schedule. It was influenced by several factors, such as the lack of qualified specialists in contract organizations due to their joining the Ukrainian Armed Forces, the lack of the necessary construction materials, and significant increase in their prices. Logistics, shipment from Europe, and customs clearance got way more complicated. Rolling and emergency blackouts, and frequent air raids do not facilitate our timely performance of the scheduled works. Our major challenges are deficit of working capital caused by sales and accounts receivable decrease, increase in currency exchange rate and thus in prices for materials and equipment.
To supplement the current assets and get funding for further construction, the company joined the governmental 5/7/9 crediting program, but banks issued a credit for this field very slowly.
Anyway, despite all the challenges construction process has not been put on hold, since we think that during unstable market situation in the Ukrainian economy production of the Ukrainian medicines gains new possibilities and remains on the agenda to provide people in Ukraine with the necessary medicinal products.