In the pharmaceutical industry, we tend to expect innovation to relate to the research and development of new drugs, but it is increasingly concerning other aspects of the production chain, especially packaging. In the last two years the packaging of pharmaceutical products has acquired a more important role than ever before: the transportation and storage of anti-covid vaccines and the shortage of raw materials have encouraged many companies to think long and hard about their use of materials and the possibility of finding alternative routes, considering the environment as well as people's health.
Although current regulations impose strict regulations for the pharmaceutical industry, companies are more and more willing to try eco-sustainable packagings capable of protecting the safety and integrity of the products they contain. Automatic machinery producers play a fundamental role in this search for eco-friendly options, foremost among them the Marchesini Group, world leader in the design and production of pharmaceutical packaging solutions: "The sustainability of packaging materials for pharmaceutical products is an important issue for our customers," comments Darran Cariani, Pharma sales manager of Marchesini Group. "We view every request in this area as a major opportunity. Naturally, to achieve good results, we need great cooperation between us, the manufacturers of automatic machines, and those who supply the packaging materials, working in synergy with customers."
In the last ten years, Marchesini Group has invested heavily in eco-friendly solutions, aiming to develop automatic solutions for the in-line production of cardboard trays, an environmentally friendly alternative increasingly popular among customers because they are as reliable as the PVC variety. These solutions are able to protect even fragile and expensive products such as syringes and ampoules, with benefits in terms of storage and transport thanks to their smaller size. To produce these systems, already available on the market today and adopted by a growing number of pharmaceutical companies, Marchesini Group has created a special team dedicated to the design of customised paper trays. In this process, the use of robotics is essential to create custom infeeds for handling, tray opening and subsequent product insertion.
The latest paper tray technology was launched in May: at the Milan show the Group exhibited an MA80 cartoner, a machine designed for cartoning products such as syringes, inhalers, bottles and tubes at a speed of 120 cartons per minute. On the same occasion, the Group also displayed two more innovative technologies linked to the research and development of machines able to process compostable materials or recycled plastics.
At the show, it presented a machine enabling the replacement of PVC with highly recyclable materials for the thermoforming of blisters and trays: the FB220 thermoforming machine allows the use of compostable materials of vegetable origin such as PLA, suitable for industrial composting, and R-PET, PET containing up to 80% recycled material.
The Group is designing these solutions for a wide array of products and packaging types, including an MT1300 12-lane stick packaging machine produced by Schmucker: this line is designed to process PP-based packaging materials (with and without PE) such as 100% recyclable plastic monomaterials like OPP or BOPP with a metallised intermediate layer.
"Marchesini Group solutions for processing materials alternative to plastic met with great success during two events the company held in May, especially since the technologies we presented are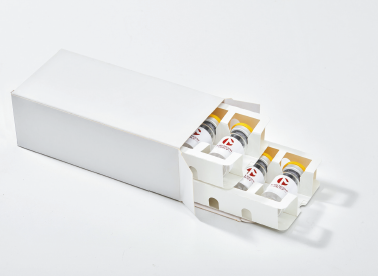 consolidated, flexible and efficient," Darran Cariani explains. "The monomaterial packs which do not imply the use of plastic fascinated our customers, who were already familiar with our experience with paper trays for packaging syringes, ampoules and bottles, and were impressed by the research and design work behind our various projects," Mr Cariani adds. "There was also great interest in the PVC-free solutions – this is a hot topic, which we will continue to work on in the coming years."
All the innovations in this field will form part of the broader "Be" project, embracing all the Group's developments around not only environmental but also economic and social sustainability. This idea reaches beyond the Sustainability Report, issued on a voluntary basis since 2015, and is a more sweeping initiative which looks to the future and sets out the goals to be achieved.