FPS is an Italian company specialized in the design and manufacture of containment systems and micronization solutions for the handling and production of active pharmaceutical ingredient and sterile pharmaceuticals; FPS is focused on pharmaceutical, biopharmaceutical and chemical companies all over the world. Eighteen years after its foundation, FPS today has three sites: the headquarters with the sales and administrative functions in Como, a production plant in Fiorenzuola d'Arda and a commercial office in Philadelphia (US).
With almost 100 employees, more than 1,300 systems in operation worldwide for handling pharmaceutical substances, FPS is a very flexible international company, that can adapt to different customer's needs.
FPS has recently realized a pack-off system for transferring potent in-process API from a filter dryer into drums or big bags.
During the first, delicate phase of listening to the customer's requirements, the need emerged to manage a highly toxic API (OEL 10 µg/m3), whose powder presented the following challenges:
- tendency to agglomerate and not flow, creating problems for subsequent process steps
- particle size can be irregular - there may be some abnormally large particles.
After with this initial analysis completed, FPS pulled on almost two decades of experience in powder containment to define the design and build the system.
The solution proposed by FPS eliminates the risk of exposure for the operators, and in automating the process it allows for a high productivity (more than 50% faster and error-proof) and 100% weighing accuracy. In addition, the automated CIP system ensures highly efficient cleaning and eliminates the risk of cross-contamination after product changes.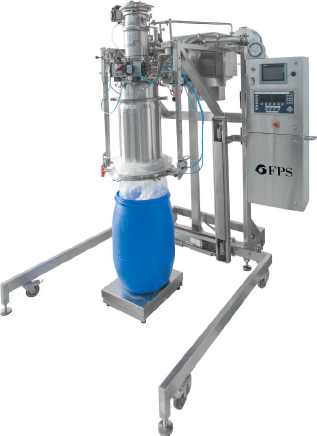 Finally, the system offers the possibility to load powder with drums or big-bags of different sizes (with the use of adaptors).
The proposed project allows the process to be contained and thus reduce cleaning time by 90%, moreover an automated coarse dosing valve clamped at the filter dryer discharge pipe provides a consistent feed to a cone mill.
The in-line cone mill breaks down large particles, so the powder will flow more easily, and the narrower particle size distribution facilitates the downstream process.
An automated fine dosing valve speeds up reaching the accurate weight.
Milled powder is fed into drums through a continuous liner or big bags with safe-change feature. In this closed system no powder is floating in the air, which makes it a safe process for operators: no need for PPEs (better ergonomics and avoids losing 1hour per shift for gowning/degowning).
The automatic weighting system controlled by FPS-designed central PLC allows you to get high accuracy & repeatability and so high productivity.
The CIP cleaning can use aggressive solvents (system is Explosion-Proof designed): 1 central control system to operate all the equipment & control the cleaning.
«It might seem like a simple system - says Sebastiano Mancarella, FPS Technical Sales Manager - but carefully listening to the customer's needs has allowed us to create a system that, in addition to being easy to use, guarantees safety for the operator without lowering productivity, but rather improving it!»