Marchesini Group participated in Interpack 2023 with a stand of more than 1500 square metres, showing 50 machines. Sustainability, digital innovation, sterile packaging, inspection, traceability and tailor-made solutions were the guiding motifs in the Group's exhibition experience, conceived as a journey of discovery through the machines, lines and services designed to meet all the pharmaceutical and beauty industry's needs. "Interpack 2023 was one of the most eagerly awaited events for our industry. It was a great opportunity to meet our customers and partners again and to start new projects and collaborations – commented Valentina Marchesini, HR &Marketing Director at Marchesini Group - Our visitors showed interest in eco-friendly solutions, in our innovative robot with parallel architecture and AI applications".
Amongst the biggest innovations the Marchesini Group showed at the Düsseldorf exhibition from 4 to 10 May, there was a large area dedicated to sustainability and solutions for packaging pharmaceutical or beauty products with environment-friendly materials. In particular, the stand exhibited a machine designed to carton vials in paper trays. This solution was presented together with a new-design paper tray, researched and developed entirely by the Group itself, which generates savings of about fifty percent in paper and about fifty percent in glue compared to the models currently on the market.
What's more, the new paper tray is less thick, providing space savings of thirty percent when products are combined inside the case, with obvious benefits during shipment in terms of load capacities and relative CO2 emissions. The Group, which has been developing paper tray solutions as a valid, safe alternative to thermoformed plastic for more than ten years, has created this new prototype with the aim of guaranteeing even more responsible use of packaging material, while further reducing production costs and avoiding waste.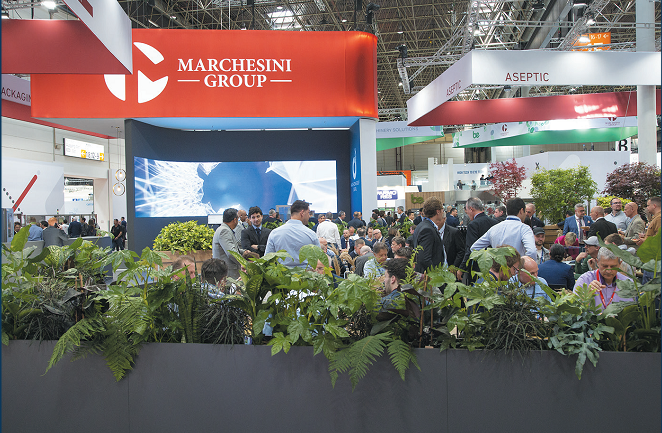 Also on show in the sustainability area there was a complete line for blister products, comprising first and foremost an integrated, robotised solution which inserts tablets in a packaging consisting of seventy-five percent PVC-free aluminium, an entirely recyclable, infinitely reusable material, and then in a cardboard carton. The line was completed by a monobloc comprising a case packer and a palletiser equipped with the  innovative robot X-Fly. Visitors to the stand were able to view a thermoforming machine for forming mono-material trays in R-PET, PET containing up to eighty percent recycled material, designed to take vials, and a line comprising a Schmucker 12-lane stick packaging machine, a stick inspection system and a cartoner.
This line was designed to process PP-based packaging materials (with and without PE) such as 100% recyclable mono-material plastics like OPP or BOPP with a metallised intermediate layer. Due to its suitability for food contact, this material is a worthy polyolefin-based substitute for the classic PET/ALU material for production of high-barrier flexible packaging.
Therefore, this international exhibition was a great opportunity for the group to show all the projects related to sustainability, that was one of the main themes of this edition of Interpack: many customers took advantage of the fair to discuss their projects.